Employer Branding
Attracting top talent to the Pharma Valley
Client - JGL - Jadran Galenski Laboratory
As a famous Croatian pharmaceutical company, JGL achieved spectacular success in recent years, graduating from a local producer of over-the-counter medicines into a serious contender on the international pharmaceutical market. However, that growth didn't come with a shift in perception of what JGL does — and what it offers to employees. To attract the talent necessary for creating sophisticated products and operating advanced technologies, they needed to improve their image as an employer. Cue employer branding.
Services
Human Resources
Branding
Creative Strategy
Copywriting
Design
Video Production
The workshops
Workshops with key decision-makers — HR / Internal Communications, CEO, and top management — were our first step in figuring out what defines JGL as an employer. Even minor things said as a passing thought helped shape our vision for the main foundation of the employer branding strategy: the employee value proposition (EVP), consisting of EVP pillars (internal sets of values specific for each company), and the EVP statement, which gives a short and clear answer to the question: "Why would a talented person want to work for us?"
So, why would they? Living in a wonderful seaside town was always the silver lining of working at JGL, but we found the whole cloud, and here's how it looks like.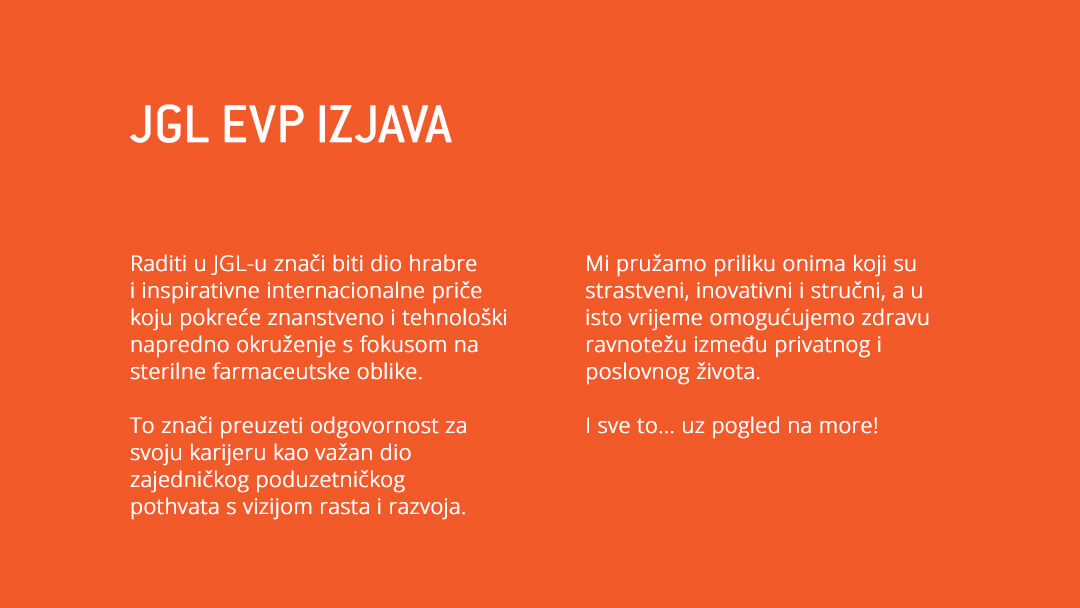 The idea behind the EVP statement
Well, the common thread of the workshops was the need to evolve from their image of the producer of iconic, yet old-school products found in nearly every Croatian household. After all, JGL entered a new investment era, built a sustainable business complex called Pharma Valley, and equipped it with top-notch technologies for sterile pharmaceutical solutions. The new EVP statement highlights who they are now: a strong, technologically sophisticated company focused on innovation, foreign market expansion, and serious research & development, now looking for ambitious experts who want to climb to the top.
The narrative was there, but we needed to condense it into a communication platform: the employer branding slogan, the overall messaging and accompanying visual identity.
After creating the whole strategy, including an EVP, an EB slogan and visual identity of the JGL employer brand, it was crucial that the current employees get used to it. The solution? An intervention into the Pharma Valley complex, leaving little traces of the employer brand all over the interior.
Next step: photographing the team & complex and shooting the culture video. The quality of both photo and video material depended heavily on the involvement and energy of the employees, but there's nothing like a nice swag bag to make you say cheese, right? Here's how the new employee gifts look like: