Back
Concepts & Communication — January 21, 2021
When life gives a pandemic, Social Media gives 4.12 billion taps on the back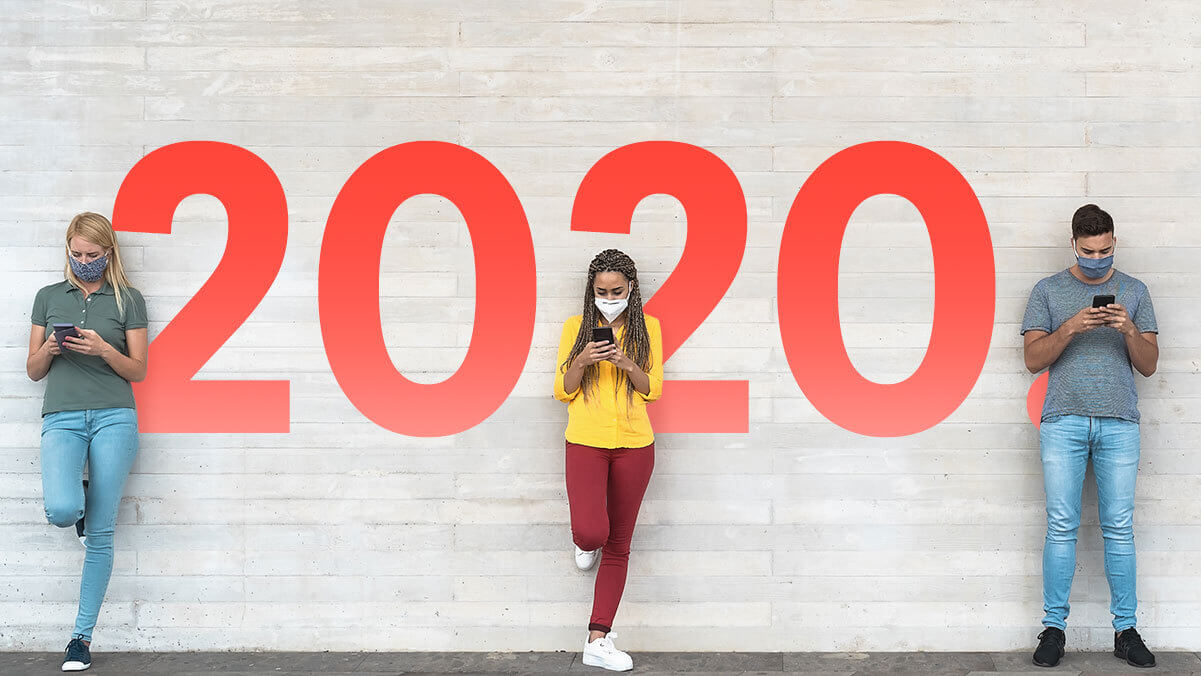 Imagine life in a pandemic era without social media and digitalization – it seems it would be a whole lot worse than it really was (and still is).
We can all agree that we want 2020 to be long gone and forgotten, but despite all the challenges and misery, it brought us, the previous year was great in terms of social media. It brought us close to each other, despite the physical distance.
2020 also brought us an opportunity to adopt new knowledge, skills, talents and awakened our creativity through social networks and their innovative ways of expressing ideas, feelings, states of mind, level of motivation, aspirations, etc. The biggest proof of that lies in the fact that, for the first time, more than half of the world's population is using social media. To be precise, 4.14 billion people use social media on a monthly basis, which is really a WoW of the year.
Source: Digital 2020 Global Overview Report by We Are Social & Hootsuite
In the following text, I'll give you a summary of the top 8 social media innovations that marked 2020 and made it easier to survive and express ourselves! But, before we do that, let's see some of the global social media predictions for 2020 and whether or not they were right:
Facebook Watch push (TRUE)
Facebook AR technology expansion (TRUE)
Greater use and implementation of FB Pay (NOT SO MUCH)
Cross stream messaging in terms of payments – and in-stream buying options on Facebook and Instagram (TRUE)
The rise of video chat (THE STORY OF our 2020)
IGTV push (TRUE)
Twitter pushing video content more (TRUE)
Twitter expects criticism about no longer allowing political ads (TRUE)
LinkedIn new video content options & event features in terms of meetups (TRUE)
TOP 8 SOCIAL MEDIA TRENDS THAT MARKED 2020, PRIMARILY IN THE ADRIA REGION
Why the top 8 and not the typical 5 or 10? Clearly, 2020 was everything but usual, so why not go with the flow and have a top 8 instead.
THE FAST & FURIOUS BRAND CAMPAIGN ADJUSTMENTS
THE LONG EXPECTED RELEASE OF INSTAGRAM MUSIC
THE TIK TOK REVOLUTION
THE BURST OF FACEBOOK WATCH
THE GREAT BOYCOTT
THE INSTAGRAM REELS MOMENT
THE POSITIVE PLATFORM – GIPHY
THE TWITTER & LINKEDIN STORIES RELEASE
THE FAST & FURIOUS BRAND CAMPAIGN ADJUSTMENTS
When the first lockdown occurred, we didn't know what hit us. The same happened with brands worldwide and their creative campaigns for 2020. Plenty of planned campaigns couldn't be carried out because they communicated things and places you couldn't visit (or do, or buy) anymore, or just had a vibe that wasn't appropriate anymore. Some brands didn't post or release anything for quite some time because they didn't have usable and adjusted content. On the other side, some were smart and quick and managed to adjust their creatives according to measures and the new normal.
During this period, influencer marketing got more natural, less "in your face" and similar to native advertising, since it was mainly focused on providing support through these difficult times. Mental health and health in general, were the topics of the year and plenty of brands centered their content around this topic using influencers. This was a great way to remain visible, but also give something that could help in these hard times. 
Brands definitely had to refocus their spendings and strategies to purpose-driven and cause-related marketing, to be more aligned with "the new normal" trends such as: working from home, using more social media apps, using streaming services, spending more time on gaming, and more online and contactless shopping. 
Here are some social media tips and tricks about the proper use of content and communication with your fans and users when a crisis, such as COVID-19, appears. It's also great just to check out what has or hasn't yet been done with your brand, since it will be a long way to get back to the old normal. 
Our team had the opportunity to work on plenty of campaign adjustments, but also a lot of brand new campaigns with our clients, such as:
THE LONG EXPECTED RELEASE OF IG MUSIC
At the beginning of summer, we were finally introduced to the long-awaited Instagram Stories accessory that we all wanted – music. People seem to express themselves the best through music, so this addition was served just in time when users were publicly expressing themselves more than ever before. 
That is also a big thing for musicians because their music will be promoted by their fans all over the world. On the other hand, it could be a problem for business profiles, because of the copyrights that business accounts have to buy in case they want to add music to their story. Otherwise, their profile could be banned by Instagram, which is the biggest nightmare for any brand or influencer profile. Today, Instagram Stories are a feature used by over 500 million accounts every day, which means it's a fertile ground for IG music usage.
TIK TOK REVOLUTION
The app was firstly created in late 2012 but struggled with its existence and rebranding until 2019. It had an enviable 75,5% growth in 2020, according to mobile analytics by firm App Annie. Without any doubt, the Tik Tok app is at the top of the pops among app downloads made in 2020, especially in the second quarter (and still counting).
The pandemic era, the expansion of mobile users, and users' urge to express themselves creatively is the formula that made Tik Tok a perfect app. Wouldn't you agree? According to the Hootsuite & We Are Social report for 2020, Tik Tok is the seventh most used social app in the world and the app download figures are still rapidly growing.
In terms of marketing, brands and influencers are more and more open to the idea of building their community on Tik Tok. However, they still often share their Tik Tok videos on other apps that they're generally more focused on, such as Instagram and Facebook. This is perfectly fine because not all brands should be on Tik Tok if they are not even slightly oriented on the generation Z as a target that they want to remain in connection with, engage or attract! Nevertheless, it is safe to say that the Tik Tok golden era already began and that digital marketers should hop on as promptly as they can.
THE BURST  OF FACEBOOK WATCH
Since the worldwide lockdown started, we've all been naturally attached to our screens and started spending a lot more time at home. Facebook and Instagram live events got almost the best from it since they became the main stages for numerous online events, organized by brands and musicians. Performers held concerts, comedy shows, cooking shows, painting tutorials, and so on, straight from their living rooms. 
A great example of such an event was a project we did with Ožujsko pivo, where we had weekly concerts with various artists under the name of "Ostajem u Gajbi Žujine svirke" through the Facebook Watch Party feature.
THE GREAT BOYCOTT
July will be remembered as "the Facebook boycott month", where major advertisers cut down their promotion budgets and their brand promotion spendings to send out a message about the lack of ambition from Facebook to properly handle hate speech and fake news on the platform. 
More than 1,000 advertisers joined this boycott, officially called #StopHateForProfit, organised by several civil rights groups. It's interesting that many of these advertisers "sabotaged" Facebook as a platform, but still continued to advertise on Instagram. 
Advertisers worldwide united in this boycott, so even in a small country like Croatia, globally recognizable brands "had" to join in and stop their advertising activities on Facebook, which was a pretty huge thing. The boycott had some impact on the problem of hate speech on the platform, but only slightly influenced Facebook's profit. Interestingly, the only ones who actually increased ad spending in July were e-commerce businesses. We'll see what the future brings, as the boycott could strike again if Facebook doesn't take any additional and serious steps on the matter.
THE IG REELS MOMENT
Instagram is already known for setting and following industry trends, so it was no surprise they've entered the social media game and given an answer to the Tik Tok experience. 
In the spring, they released Instagram Reels – a new way to create short 15 second multi-video clips with various effects, audio and other elements. The benefit of Reels is the way it smoothly reaches new audiences because of its reachable algorithm that, similar to TikTok, pushes your Reels video to more and more people, wider than a usual post. The Instagram Reels trend quickly became a must-have of almost every creative-driven account or strategy, especially in the fashion and beauty industry.
GIPHY SHOULD BE CALLED "THE POSITIVE PLATFORM"
As I mentioned before, 2020 was the year when we got more in touch with ourselves, our feelings and the world and people around us, which is quite wonderful. Giphy also noticed that and revealed the top 25 gifs in 2020. 
The most common GIFs that were spread around the world were gifs about positivity, hugs, love & encouragement. This shouldn't surprise us that much, since mental health was one of the most popular topics this year, and some of us became aware of the importance of it for the first time in our lives.
TWITTER & LINKEDIN STORIES RELEASE
This Autumn, Twitter and LinkedIn were busy keeping up with other, more engaging platforms so they stepped up their game by releasing their Stories formats. The reason for it appears to be that they found out users are under a lot of pressure when deciding what to publish, so they don't publish at all, especially on Twitter. 
So Fleets (Stories on Twitter), released in November, are the solution for momentarily and more openly expressing opinions about everything you want, without getting into a big public discussion about it, and it lasts for 24 hours. LinkedIn Stories were released in October with a simple purpose to give LinkedIn job seekers a more approachable way to attract talents through lightweight conversations, advice & short videos & photos that last for 24 hours, like the usual Stories format. So to sum up: everybody is trying to be more reachable and make conversations more approachable – which kind of sums up the whole 2020, if you ask me.
WHAT IS 2021 GOING TO BRING US?
A lot, I think! My magic bowl predicts:
major focus on and implementation of e-commerce through social media platforms


short creative videos will be a must-have because of their great organic performance

new Instagram Stories & Reels features

more brand involvements on Tik Tok

the ongoing growth of Live events/panels/webinars

more personalized and authentic brand approach to audiences

more positivity – it can't be worse than 2020, hopefully! 🙂
2021, we are all still a bit scared of you. However, we're also very curious and can't wait to see what you have prepared for us, so be gentle!