Back
Concepts & Communication — December 10, 2022
TikTok, from lip-syncing and dancing to a new home for brands from all industries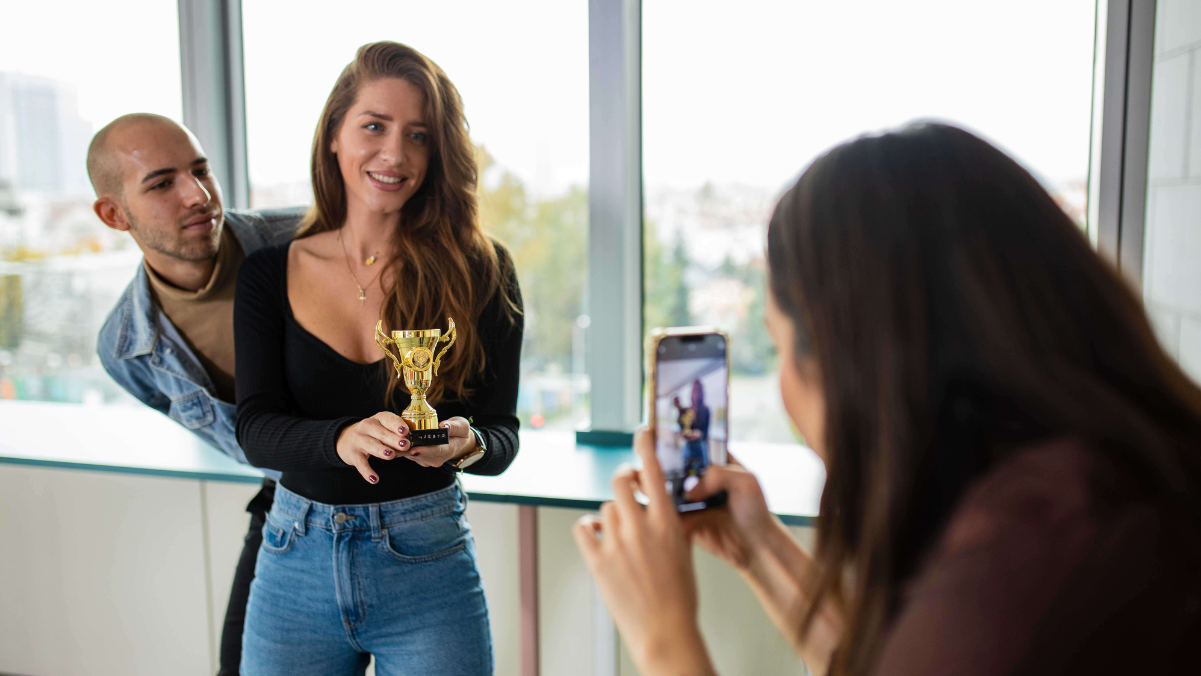 If you still think of TikTok as a place made only for Gen Z, funny dances, and lip syncing – we don't blame you; the list of myths about TikTok has been going around for a long time now. However, this blog post will break those myths and show you just how much TikTok has evolved and why it is a platform where your brand, no matter the industry, needs to find its place.
TikTok for brands? Why?
With its large user base and focus primarily on positive content, TikTok has become a compelling proposition for brands looking for new ways to engage with existing and reach new audiences. If you are still not convinced, here are some reasons you should consider TikTok for your brand: 
High engagement rate and reach

The algorithm that allows you to reach the target audience (both B2C and B2B businesses)

Opportunity to increase sales

Possibility to change the brand image
With a potential reach of 884.9 million internet users worldwide and an average engagement rate being 6.37%, TikTok has become "the" place for brands. High average engagement rate has made TikTok a platform with the highest engagement levels in 2022. This shows the constant increase in members' activity and the opportunity for brands to join the platform.
The biggest reason why TikTok is the perfect choice for brands is its algorithm. Although many consider it "uncrackable," it is actually not that hard to understand. The TikTok algorithm runs on a content graph rather than a social graph and is designed to show you videos it thinks you will enjoy based on your previous interactions. This also means the content users see is not limited to the content created by the profiles they follow, which shows that you do not need thousands of followers for your video to become viral.
Thanks to the TikTok algorithm, it is most likely to get niche content to the niche audience, which makes it the perfect opportunity not only for B2C businesses to join the platform but also for B2B ones. If you need more convincing, just consider this: 13.9% of B2B users who use social media channels for work research say that TikTok influences their purchase decisions. And just when you think this is where the story stops, let's just mention that the #Finance hashtag on TikTok has 10.2 billion views so far. 
Now that we got your full attention, let's go to purchase decision-makers and the following statements: 
The last one goes to all marketing specialists and brand owners trying to appeal to the younger audience. Although it can be used for many different reasons, TikTok started – and still is – the most popular platform for entertainment-based content, which can help you redefine what your users think of you. 
Use this as an opportunity to portray your brand differently than on other social media channels like Facebook or Instagram and build a separate reputation using TikTok marketing. 
One of the best examples of this is Duolingo which has stepped out from its competitors' corporate box and has become one of the most popular brands on TikTok by simply participating in popular trends.
Should all brands be on TikTok?
The biggest question of them all, and the answer is simple – why not? Our numbers in the text above show that all brands could profit from TikTok. 
The most interesting examples on TikTok actually come from  industries you would not even expect to see there, so let's go through just some of the successful examples:
Who says finance is boring? Revolut sure disagrees. This digital bank has been able to respond quickly to trends and get a lot of engagement from the TikTok community, with some of its videos gaining millions of views.
And just when you thought this works only for digital and modern brands like Revolut, the Royal Bank of Scotland enters the chat. The bank has partnered with influencers to discuss various financial topics, from money-saving tips to avoiding financial scams. As a result, some of their videos have received over 2 million views. 
Insurance companies are considered very traditional, but State Farm has proven that they can do a pretty good job of being trendy and modern on TikTok. They joined the platform in 2021 and since then have been using the character of Jake from State Farm (a very known TV commercial character in the USA from 2011) to jump on the latest trends. The funny thing is that Jake consistently refers to the commercial, which has helped him gain 630K TikTok followers.
Believe it or not, it is possible! Fowlerville District Library from the USA has been able to build a large following on TikTok and today counts more than 101K followers. The account shows videos of staff going through the books, participating in TikTok trends, and promoting inclusion and social justice.
But still, there are some questions you should ask yourself before making the BIG move of coming to TikTok:
Is my audience on TikTok?

Can I provide additional value to my audience on TikTok?

Do I have the resources to experiment?

Is TikTok a part of my strategic social media goals?
The latest research shows that almost 40% of TikTok users are between the ages of 18 and 24. This age group is followed by 27% of users being between 13 and 17 years old and, not so surprising anymore, 25% of users are between 25 and 34 years old. 
This shows that the age groups have expanded, and brands worldwide can find their way to their target audience. However, for the rest of TikTok users, the data shows that just 5.97% are from 35 to 44 years old. 
Something to think about: Is your target audience in the top three target groups on TikTok?
If the answer is "yes," keep reading because we might just convince you to join the platform.
Once you have realized that your target audience is present on TikTok, think about what additional value you can provide to your audience. Can you hop on relevant trends? Can you produce engaging video content where you will showcase your product or services? 
Also, what about the time and resources you have? Can you create a successful and sustainable TikTok marketing strategy with the staff you have and their current TikTok skills?
Lastly, it is important to have good foundations for every future move. So before making a TikTok profile for your brand, think about how it fits your overall social media channels strategy. Are you creating a TikTok profile just because your competition already has one, or do you truly believe that your TikTok profile can help you achieve one or more social media goals of your larger marketing strategy?
I want a TikTok for my business; what now?
When it comes to setting up your TikTok business account, it could not be any easier. You just need to download the app, create an account and select the menu option in the upper right-hand corner of your profile. 
Next, you should switch the account from personal to business in the "Account Control" option under "Manage Account." After doing this, you will need to update your TikTok profile photo and create a fun and catchy bio to present yourself to the community. And that's it! Your brand is officially on TikTok.
I guess you are wondering: "If it is that "easy" to create an account on TikTok, why are you even writing this blog?" Well, it is one thing to open an account and another thing to manage it. And to get the best out of TikTok, you will need a good TikTok strategy for your business or brand. 
TikTok does not need a marketing strategy. Or does it?
There is no magic formula that will make you viral or succeed, but there are a couple of strategic tips you can follow. 
Ask yourself why you are here and start from that. Do you want to attract potential employees to come work for your company? Would you like to hear what the consumers think of your products or services, or do you just want to show them the manufacturing process? Whatever your goal is, be sure to work around it. Leverage the channel to your advantage, and be sure to use the most trending sounds and content trends in your videos.
To become viral on TikTok, you need to pay attention to what is popular at the moment – and you cannot do it just by looking at two or three videos. Take time in your day to go through your For You Page on TikTok and the Discovery section to see what sounds, filters, edits, or videos, in general, are trending, and think about how you can hop on the trend from your brand's perspective. Don't forget that TikTok trends change rapidly, so do not feel forced to use every possible trend all the time. Instead, create good quality content that suits your brand and should help you excel in your goals.
Influencer strategy is an extremely important part of every successful TikTok marketing strategy. Be sure to segment your content to see which creators drive results for your brand. In the beginning, you can engage with your favorite influencers' TikTok videos by making fun and engaging comment. Keep an eye on them to see what kind of content they create and how you could fit your brand there. The duet option on TikTok will give you the opportunity to collaborate directly with an influencer, so be sure to use it!
A business account on TikTok allows you to monitor your videos' results constantly. This will help you decide which type of content you should stick with and what needs to be changed. Open your TikTok Analytics and look at the videos generating the highest reach, video views, and shares.
Look for similarities between top-performing posts, and you can decide how to continue having great or even better results.
TikTok has eventually, just like any other platform, become a place for ads. The most significant advantage TikTok has is its high reach, and we all know that nowadays, videos are the best type of content to get anyone's reaction. Explore the possibilities of advertising on TikTok in your country, set your goals and objectives, and you are ready to go! If you want to learn more about TikTok advertising, a blog post by our colleague Matej "Why you should consider advertising on TikTok" is a great place to get all your most important information, so make sure to read it!
These TikTok marketing strategy tips have become a proven tactic also in our work on TikTok. The best example is Nema greške profile we have been managing for some time for our client Smoki by Štark. We have already been managing their Facebook and Instagram pages. Still, we knew that with TikTok, we needed to go the extra mile and create a different strategy with content that would appeal to our target audience. Having that in mind, we have decided to show a more fun side of Smoki through the combination of video-illustrated content following brand design guidelines where we show Smoki in action. 
We are using our models in TikTok videos where we want to show the fun lifestyle with Smoki. With various successful creative contests on the profile, positive engagement, and over 12K followers on the platform, we plan to carry on with our strategy.
Managing a TikTok profile 101
Now that you have your strategy laid out and your TikTok account set up, it is time to start posting. Here are some tips by TikTok itself that you should always have by your side to make sure to be successful on the platform:
Post content 3-5 times per week for the optimal amount

Posting more than 5 times per week may be too much for your followers

Stick to 2-3 hashtags 

Your video should have 9:16 dimensions and a full-screen, vertical, 1920 x 1080 crop
If you would like to have this in one place but in a cute form, don't be shy to download our TikTok cheat sheet at the end of this blog.  
In the end, TikTok – just like every other social media platform – has rules of its own when it comes to brands and branded content, so make sure to check them out. 
In conclusion
At first glance, TikTok videos could be compared to an act on a talent show – to an average user, it looks like a cool thing, and they believe that they can do it better and quicker, maybe even with less effort. Then, once they start, they learn that, in fact, it is not as easy as it seems, and the results are just not happening. Through a smart TikTok strategy, your brand can achieve great results – from high engagement and great brand recognition to increased sales. And if on the way, you need a hand to guide you through a successful strategy and high-quality content production, our team is here for you.
Download our TikTok cheat sheet
Fill out the form and get a free pdf that will help you create amazing TikTok videos!