Back
Performance marketing — April 6, 2022
Meet the Performance Marketing unit, the fastest growing team in Degordian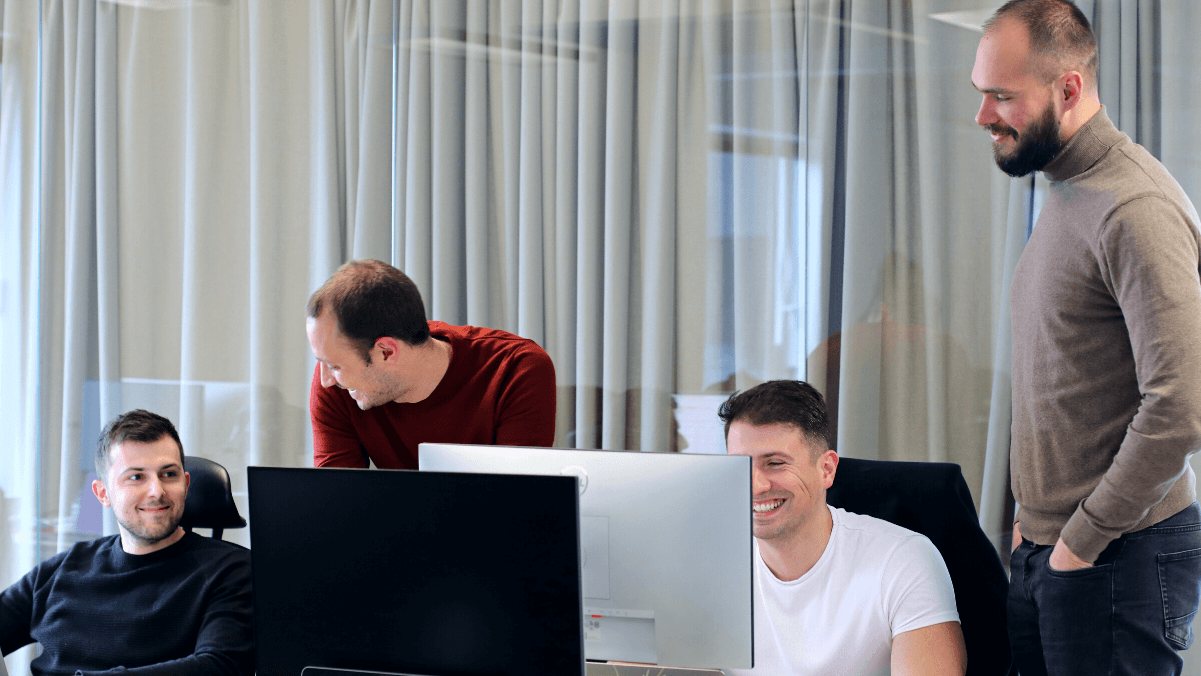 Our Performance marketing unit has grown and developed so fast over the years that they can now deliver complex B2B  and B2C solutions. What is the structure of our ever-growing performance team and what are they working on? Find out in a second. 
As an agency, Degordian has always been full-stacked and covered many services. We develop integrated and high-quality marketing solutions in one place. To ensure top quality in each segment, we are organized into units that are 100 percent specialized and focused on their specific area. Something like agencies within an agency. 
One of those units, and the main star of this text, is the Performance Marketing unit made of people who are solely and exclusively focused on marketing that is driven by business results. This is how we got the most out of both approaches — Degordian, which is broad and offers integration, and the unit, which is specialized and focused on a core service. 
When talking about a typical performance marketing project, some require only one performance marketing service (for example, digital advertising), but other projects require a broader scope of our unit's services. How do we manage to organize it? Read on about the evolution.
How did we get started?
Degordian's Performance unit had two previous organizational structures.
Initially, Degordian's performance unit was divided into two main teams — Digital Advertising and Web Analytics and Optimization (WAO). Digital Advertising included Digital Advertising and Email Marketing, while WAO included SEO, Analytics, CRO (Conversion Rate Optimization), and Inbound Marketing.
This organization met the needs of that time, but the incoming business and rising number of employees required a structure in which these two services would be more connected and profitable, and employees could develop faster in the directions they wanted.
In the next phase, the Performance unit was also divided into Digital Advertising and Web Analytics and Optimization, as before, but within one large Performance marketing team. Such a structure ensured better cooperation between people, more extensive projects, and opportunities for faster growth. This structure was a cornerstone of the Performance marketing unit as it is today. 
The Performance marketing team today
The accelerated digitalization fueled by the pandemic forced companies to turn to digital sales channels. Because of that, we are getting more national and international clients who need complex B2B or B2C marketing solutions. We call them concepts, which are a specific mix of services integrated together.
Our performance marketing projects most often involve a combination of:
Strategy

Digital Advertising

Analytics

SEO

Conversion Rate Optimization

Marketing Automation

Creative

Production
Our leading vertical solutions are e-Commerce, Lead Generation, and Inbound Marketing. We also have solutions for crypto and mobile app marketing, while SaaS, as well as marketing CRM/CDP and Account-based marketing are in the pipeline to be further developed.
In every project we work on, we try to solve our clients' business problems, whether it is increasing sales, profitability, or generating leads.
We solve them using advertising, SEO, and other services, because each of our clients needs a unique approach and different performance marketing strategy. For example, e-Commerce clients are entirely different from the Lead Generation ones, B2B is different than B2C, etc.
We have 3 performance marketing teams with a mix of different specialities, but each team has a different concept to focus on. 
We group our teams based on those main concepts, and every team:
has its own performance marketing experts

participates in performance marketing projects, but focuses on a particular concept
Inbound marketing
We started with Inbound but what we are doing today is even broader and bigger than it was at the beginning. It is a type of project where we do strategy, analytics, SEO, automation, and advertising. For example, this means the segment is mostly used in B2B, analytics is usually involving only one product or a couple of services. SEO is oriented towards content marketing, advertising is focused on content promotion, while email automation revolves around Hubspot.
E-commerce
While advertising in this segment is more data-feed-oriented, it has a lot of products, so you often need hundreds of creatives automated as much as possible without going into manual mode. CRO (Conversion Rate Optimization) is more important in this segment and is oriented toward key product, category pages and the checkout process. Marketing automation is focused on repeating the frequency of purchases. SEO revolves around key categories and product pages, as well as content marketing.
Here, we work primarily for B2C clients. The analytics that we need to track is related to hundreds or thousands of products. 
Lead generation
Unlike the others, the Lead generation segment emphasizes advertising, landing pages, and automation. Automation is much simpler – usually, Mailchimp is enough, compared to inbound marketing, where we use HubSpot.
CRO is more focused on landing pages (while, for example, e-Commerce is focused on checkout), key pages (i.e. pages of main products).
Projects are more focused on B2B, but sometimes we work with B2C clients –  it is intended for all those clients who live off leads and inquiries.
Our team
Our team now has 25+ experts with many years of experience and they continuously learn and share knowledge. 
We are certified Hubspot, Google ads, and Google Analytics partners. Our team regularly updates their knowledge, and shares it with each other,  as well as with the people in the industry (you can check our educational website Detangled to see if there are any interesting education for you.) 
To maintain a healthy and pleasant working environment, every employee has a chance to ask any questions and share their worries and doubts during their one-on-one monthly Quality Time with their team lead, the performance marketing director, or even our CEO if needed. 
Transparent communication, proactivity, education, and togetherness could describe our Performance marketing unit and the entire Degordian, and we are constantly looking for experts with the same mindset to join our team.  
If you are interested in working with us you are in luck, and hopefully, we will be, too – we are looking for a Performance Marketing Team Lead and a Digital Advertising Manager. Check out what we are offering and apply!