Back
Performance marketing — August 25, 2021
What is inbound marketing, and how can it help your business?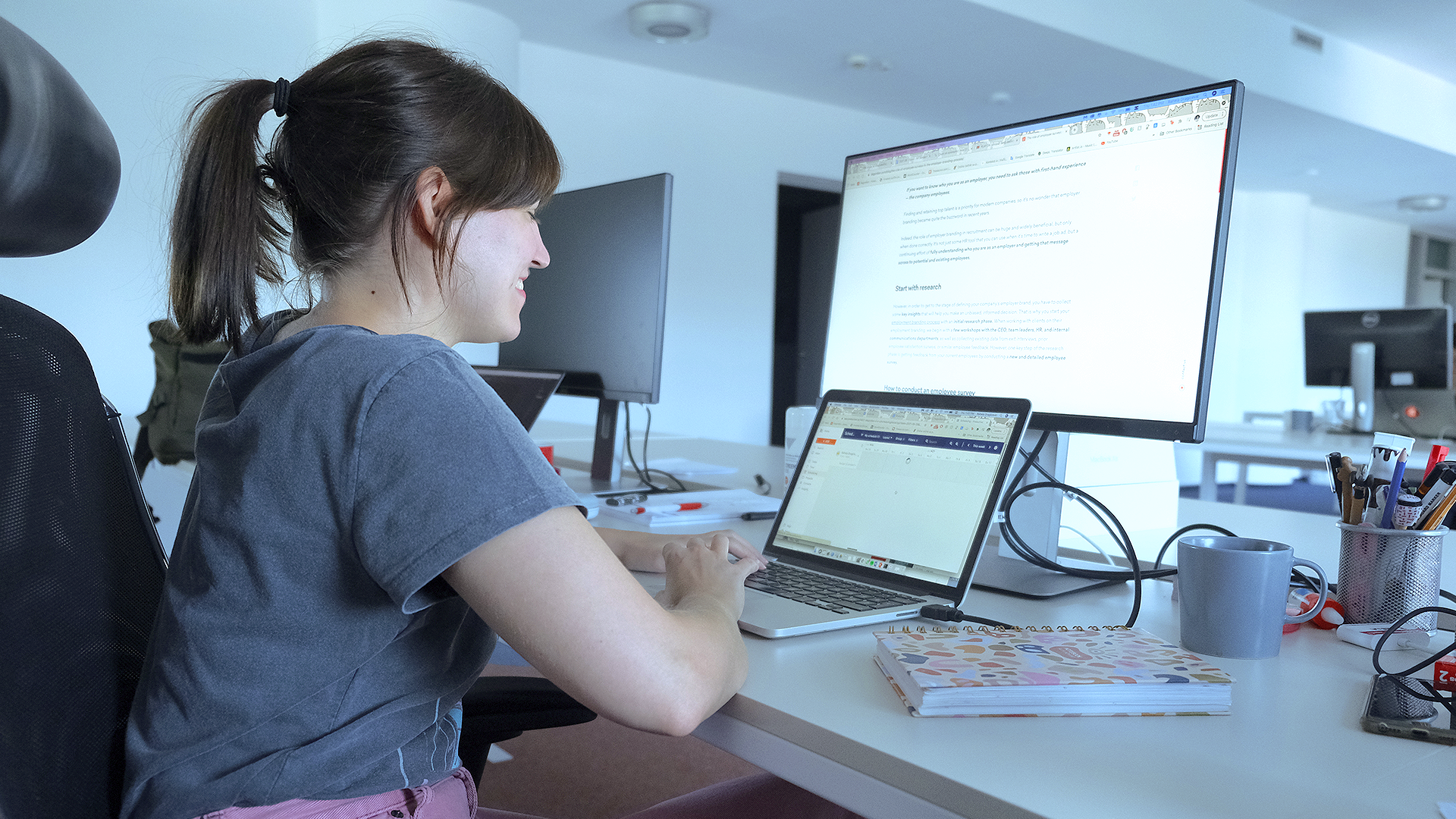 Looking from the consumer's position, if we are interested in some product or service, we will likely do some online research before purchasing, right? The search engine will give us the most relevant content. That is why we, as marketers, must be present with our content and offer helpful information to our target audience. This approach is called inbound marketing, and the text below will explain more about it and how inbound marketing can help your business. 
New technologies have undoubtedly advanced, and consumers are increasingly expecting two-way communication with the brand. Just imagine yourself when you want to buy something. It is no longer enough for the brands to reach us through advertising.
We want them to be available whenever we ask for some information, to be able to offer us answers very quickly, and to show us that they are trying and want to maintain our trust.
Considering all that, it is clear that consumers became more desensitized to traditional marketing communication.
As a result, they will easily shut out any marketing activity they find too flashy, repetitive, or uninteresting.
How? By installing ad blockers, change the program, empty spam folder, etc. 
This situation makes it harder for marketers to reach their target audiences, especially if they are only stuck to the traditional methods – such as outbound marketing.
So, what can marketers do if they want to adapt to new consumers and their demands?
The answer to this question lies in – inbound marketing.
So, what is Inbound marketing?
Long story short, Inbound marketing is the process of attracting visitors before they are ready to buy. That would be a brief definition, but the better question is – how does it work?
We can attract visitors by creating helpful content and slowly building trust and credibility, eventually turning them into customers.
It's one of the best ways to attract the right kind of customers; by creating and delivering content that addresses their needs, enabling two-way communication, and generally providing value to potential and existing customers. 
Outbound vs. Inbound – what is the difference?
So-called "push techniques" or paid advertising, such as TV commercials, radio and print ads, billboards and outdoor advertising, etc., are also known as outbound marketing. They are designed to interrupt people to get their attention. 
What are some of the challenges with outbound marketing?
It isn't easy to track whether the message has reached potential customers 

It is costly  

More and more users are using ad blockers 
On the other hand, through Inbound marketing, we earn customers' attention by delivering value on each step in their customer journey (buying process).
The inbound marketing approach was created to respond to consumers' aversion to most forms of traditional advertising.
In the modern business and marketing world, you need inbound marketing to thrive. A well-executed inbound strategy can benefit a business in many ways. It can:
Increase brand awareness 

Influence future purchases

Establish authority and trust

Help with search engine optimization

Enable customers to engage with your brand

Generate high-quality leads
Sounds too good to be true? Well, it is true. Of course, it takes time and knowledge to design and implement an inbound marketing strategy, but we're here to help you out. 
Key concepts
There are several key concepts on which inbound marketing is based. 
Lifecycle marketing
It's crucial to understand that your customers will go through several stages before making their buying decision, such as awareness, research, evaluation, purchase, post-purchase, advocacy, especially if you're selling online or selling complex products. 
With this in mind, it's crucial to adapt marketing messaging and channels based on segmentation criteria and on which stage of the buying process the customer is in.
Personalization & context
Whenever a customer interacts with our brand online, we get more information about them and their preferences. So, for example, we might find out that a customer likes to download our whitepapers about a specific product and so on.
Each of this information helps us piece together the larger picture. The more information about the customers we have, the easier it will be to tailor our activities. 
Multi-channel
Inbound marketing is, by definition, a multi-channel activity. An inbound marketing campaign should utilize several channels to achieve its goals. 
For example, social media ads can funnel traffic to a landing page for a gated cogent download, which later triggers a lead nurturing email sequence that ends in a sales call and post-conversion communication.
Marketing technology (MarTech)
Marketing technology is the basis of all inbound marketing activities. Martech allows marketers to utilize marketing automation to automate many tasks, which saves time and money. 
Also, MarTech adds additional value to customers. For example, marketers can set up tracking, which triggers an email sequence whenever a customer adds a product to their shopping cart but doesn't complete the transaction for whatever reason. 
Without the underlying marketing technology, it would be almost impossible to perform such tasks.
Since inbound marketing combines several processes and approaches, let's quickly define some of the key digital marketing forms used in inbound marketing.
Marketing forms used in inbound marketing
Content marketing 
As I already mentioned, through inbound marketing activities, we attract new customers by creating and sharing valuable free content. So without the content, it would be impossible to achieve already pointed goals. 
Quality content helps companies create sustainable brand loyalty, provides helpful information to consumers, and makes a willingness to purchase products from the company in the future. 
Search engine optimization (SEO) 
Consumers are constantly using technology and easy internet access to explore and search for everything they are curious about. 
Search engine optimization or SEO focuses on all those actions—within organization goals—to improve organic traffic to the company's web page. According to Think with Google, 49% of users say they use Google to discover or find a new item or product.
SEO allows you to understand how consumers search and discover information about your organization, brand, or competitors online. 
If you want to enhance your website's rankings and visibility, you can achieve that by implementing SEO strategies in your marketing activities. 
Such a targeted approach will involve fewer people, but the difference is that these people are more likely to buy your specific product or use your services. Classic SEO strategies are also very useful in inbound marketing, such as metadata, content keywords, and link building.
Social media marketing
The majority of your audience spends a lot of their time on Social Media. Using social media as part of your inbound marketing strategy can help you reach the right people at the right time and create brand awareness. If you can provide relevant, informative, and entertaining content, the audience will want to connect with you.
By adding more and more relevant content, you build interaction, engagement, and a level of trust. By sharing brand insights, you also make authority. Read about 5 reasons why social media is important for your inbound marketing strategies.
Email marketing
With all the tactics mentioned above, such as quality content, social media, and SEO, which are desirable for attracting new traffic, nothing can replace email—a requisite part of every inbound marketing strategy. 
Even if your audience doesn't check social media often or doesn't visit your website daily, email allows your message to reach them anyway. 
By regularly sending relevant content through emails, you'll drive loyal subscribers to your post within minutes, ensuring your hard work doesn't go unnoticed.
Since the email list building should be a part of the inbound strategy, it is essential to have a list of email addresses that are within your target group (legally collected, of course).
One of the great benefits of email marketing is that you can personalize and customize the email to the recipient's expectations and needs, which certainly increases the chance of being open and read, rather than crouching somewhere in the depths of a promotion or spam folder. 
Email is a great way to implement an inbound strategy because:
You know who will see your message

It allows the use of CTAs, which means users can easily do what you ask them to

Your prospects and leads can reply to your mail, which enables you to have two-way communication with them

There are no restrictions on the use of photos and videos
Email is suitable for every step of the lead nurturing funnel—the process in which leads become clients. And once they become clients, sending follow-up emails with the content they like allows you to engage and delight them continuously.
Always keep in mind the principal values of the inbound methodology; make sure your content is helpful, relevant, and nonintrusive.

PPC (paid advertising)
Although you may think you can't connect PPC (pay per click) and inbound marketing, the fact is that the PPC is just another way potential customers can find you during a search process.
Here are some reasons why PPC goes hand in hand with inbound strategy:
So, imagine you have created a website, written excellent quality content, and optimized it for search engines. Great! But sometimes, it takes months for your efforts to pay off, and your web appears first on the SERP (Search engine result page).
With a bit of help from PPC ads, you can be first on the search engine from day one by choosing the right keywords. That can undoubtedly speed up the results.
Using the right keywords is crucial for inbound as well as PPC advertising. Why? Once you are familiar with words and phrases your potential customers use, then you can write content that they will find quickly. Also, search engines will know where to display your ad.
It helps you promote new products and events
Using social media is great for promoting events and products. But, PPC is a cost-effective way to expand your audience and increase the number of guests, if it's an event, or spread the word about a new product.
You can target a specific audience
When placing a PPC ad, you have the opportunity to target your audience in detail by selecting a number of demographics such as age, gender, location, time, device, career, interest, and many more. Imagine advertising a new iOS app to people who use Android. In that case, you have thrown your money away. That's why it's essential to understand your audience so you can get closer to it.
Drive traffic to your site so you can test
In case you need traffic to your website right away, PPC advertising can bring you the reviews you are looking for. You can test titles, landing pages, call-to-action buttons, etc.
PPC will certainly help speed up your inbound marketing strategy, but we must not forget the essence: valuable and relevant content. Without it, PPC will not be of much use.
Inbound marketing stages
The inbound marketing process is divided into several stages or phases. These stages can be defined as:
Attract – the phase in which potential customers (leads) are made aware of our brand. You can do it through paid advertising, blogging, search engine optimization, social media posting, etc. The idea is to slowly introduce people to our brand by offering them helpful content that solves their problems.
Convert – Convert website visitors into leads. Ask your customers for personal information (usually name and email address), but give them premium content in return. This type of content includes eBooks, whitepapers, case studies, webinars, and infographics.
Close – Turn those leads into customers by nurturing them with email marketing, other valuable content, and ultimately sales conversations.
Delight – Once someone becomes a customer, don't forget about them. Instead, publish content that will help them use your product better and answer any questions. 
Leads must be engaged at all stages, or in other words, during the entire time they're in the inbound marketing funnel, even after they make a purchase. Depending on the stage a lead is in, we must tailor our communication and use the appropriate channels.
(Visual representation of Inbound marketing stages)
Hubspot creates an efficient visualization that describes never-ending inbound activities with a customer at the center – a so-called flywheel. 
What is the difference between the traditional marketing funnel and the inbound marketing flywheel model? 
The point is that inbound marketing activities never stop. Even if we attract potential customers and turn them into leads and customers, we always have to do our best to delight them repeatedly and give them the most relevant content. 
How to build an inbound marketing strategy 
Like everything we do in marketing and business, we have to begin with creating business goals, and they, as we know, must be S (specific), M (Measurable), A (Attainable), R (Relevant), T (Timely). Furthermore, the choice of strategy also depends on the industry, the size of the company, etc. 
Below I will briefly discuss how an organization should approach inbound strategy development based on our processes.
There are still some basic strategy elements such as:
– Creating an inbound funnel that maps all customer touchpoints with the brand
– Creating buyer personas & segmentation
– Developing a comprehensive SEO strategy
– Creating compelling content and using it to generate leads
– Using marketing automation to nurture leads
– Creating a post-conversion strategy
And that list is just the tip of the iceberg. One thing is for sure, the more we dedicate ourselves to each of these elements, the more successful our strategy will be.
How inbound marketing helps companies? 
I've already mentioned that the inbound marketing goal is to attract and retain potential customers without using traditional advertising tools. Instead, it relies on all the steps needed to get a potential customer to come to us. 
Once we have set goals and created our inbound marketing strategy, let's see how using inbound marketing can help your business meet its goals.
In short, inbound marketing helps businesses generate new qualified leads that can later be nurtured and converted into customers.  
By utilizing inbound marketing methodology and strategies, organizations can strategically attract new customers by focusing on delivering valuable content to the right customers at the right time. 
According to HubSpot, 40 percent of marketers said that proving their marketing efforts' Return on Investment (ROI) is their biggest marketing challenge. By reducing marketing costs for traditional advertising and improving ROI, inbound marketing can easily affect a company's bottom line and drive more revenue. 
Also, Inbound marketing reduces costs by laser-focusing on quality leads (quality over quantity), establishes trust easily, reduces friction between marketing and sales teams, and allows companies to improve their products and business processes by listening to customers' feedback. 
To conclude, why should brands invest in inbound marketing?
Today, your audience is well-informed and almost always online. They research reviews, and social media and ask for recommendations. Because of that, it is easier than ever to get closer to their communication, but you need to be present with quality content and all the information they need. Inbound marketing covers it all without spending a lot of marketing budget on paid advertising.
All of the things we just said about inbound marketing seem ideal, although we need to know that a successful strategy doesn't happen overnight. It takes time to plan, implement and optimize.    
Also, unless you are an all-in-one marketing expert (in other words, Superman), it usually requires people of different expertise, such as content creators, designers, developers, social media marketers, etc., to cover all parts of the strategy. 
But, once you take all the steps needed and start getting your results, every hour spent on creating content will be paid off.
If you are just at the beginning of your inbound path or need help on the way to its implementation, don't hesitate to contact us!