Back
Employer Branding — September 20, 2023
Introducing Enstring: our HR-first agency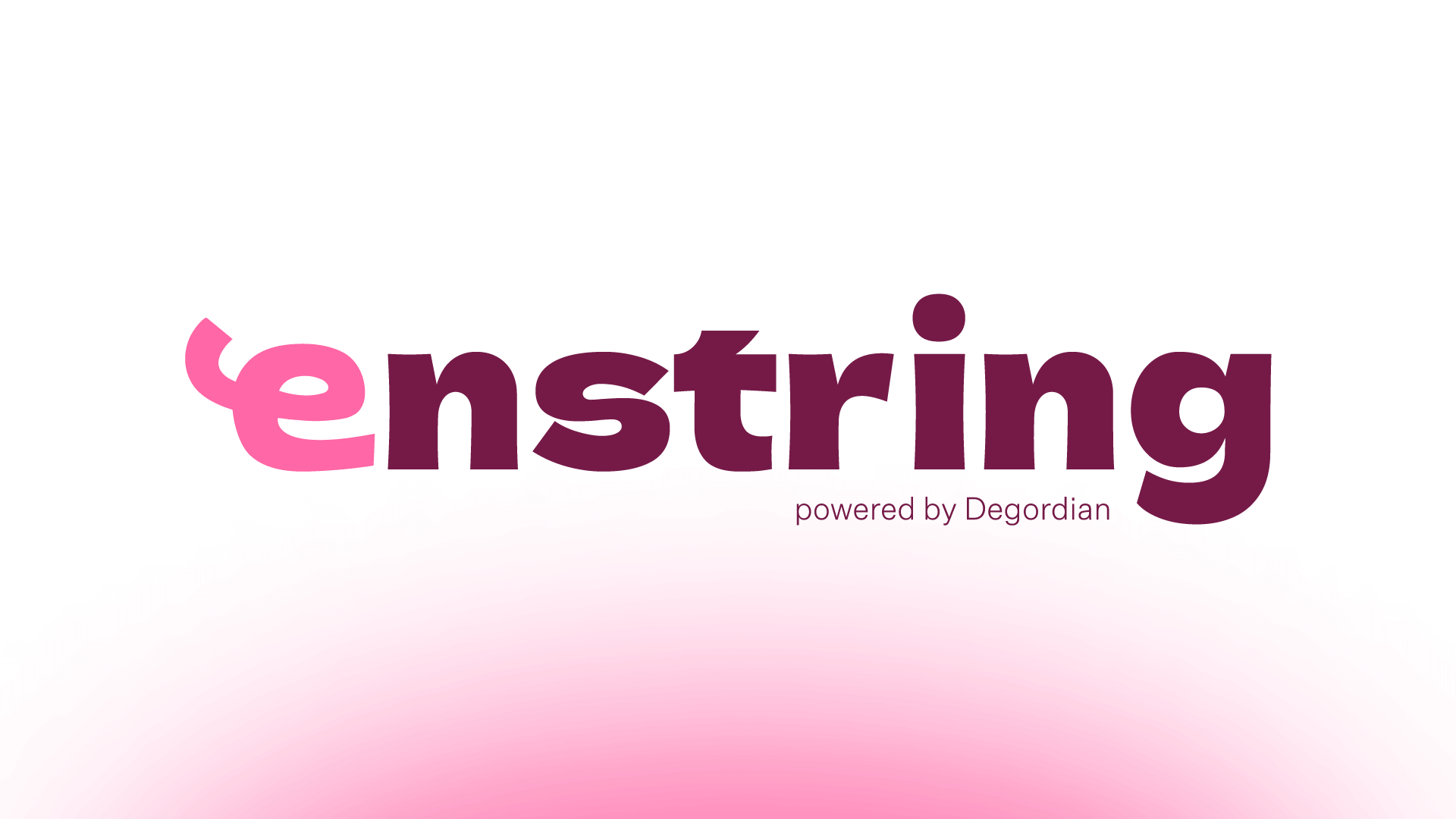 Recently, we shared that following our repositioning, we have made a strategic decision to allow all our units to rebrand into Degordian's sub-brands.
That means each of our service pillars — Employer Branding, Brand Communication, Digital Production, and Performance Marketing — can get their own branding. They will remain under the Degordian umbrella; however, this decision will allow our services to be more focused and specialized in their respective areas of expertise.
Now, we are thrilled to announce that our Employer Branding unit will, from now on, be known as Enstring — an HR-first agency! Enstring is here for every HR department, providing the support that has been missing until now. In this blog post, we will share all the details about our new brand and why we believe it can make a real difference.
How did we get there?
It has been a solid five years since we started with our employer branding services and more than three years since we became a separate unit inside the Degordian agency. In those years, we have learned so much about the job markets, employers, employees, HR practices, and communications in all those fields. But what we cherish the most is the connection we got to all HR specialists, their challenges, and their needs. We listened carefully, and now we are ready to give them all the support they need, and that was missing before. 
What are we trying to solve?
The heartbeat of every business starts with its HR departments. Yet, they are often caught in a tangle of operational duties without the specialized knowledge to influence the company's overall business strategy. 
HR often struggles to find a suitable partner to meet their needs. They are offered with classic HR agencies that are focused on recruitment or education, and on the other hand, with marketing agencies offering creative solutions and campaigns. We took a different approach, offering an understanding of HR processes and strategy combined with our marketing skills and knowledge, and received great feedback from all of our clients. This pushed us to learn and offer more.
In the end, partnering with us, HR departments extend beyond operational duties, crafting strategies that enhance their employer brand, attract suitable talent, foster engagement, and inspire a workforce that is both productive and satisfied.
Here is what some of our clients said about collaborating with us on their projects: 
"We really like working with the Enstring team! After collaborating on several projects for a while, we managed to align our common vision, and we look forward to every next challenge with them. They helped us find the right path in HR marketing and new branding!" – Eva Machová, Group Senior Employer Branding Specialist at FEG
"In one word – efficient. Although the process is obviously comprehensive, the ways of working agreed to at the beginning provided an excellent framework to execute our joint project on time and budget. The three-step process works well even in a large and complex company like ours. This structured approach kept us focused on project objectives." – Maruška Letica, Employer Branding Expert at INA
"Enstring exceeded our expectations! Their positive and enthusiastic team navigated us through a complex process, crafting a remarkable Employer Branding strategy for Croatia Control. The collaboration was quick, productive, and full of laughter. A truly exceptional experience!" – Marina Morić, Head of Human Resources at Croatia Control Ltd.
Why Enstring?
"Enstring" embodies the essence of a connection. A connection that brings together diverse elements within an organization. Just as a string links pearls into a necklace, we serve as the link between HR experts, potential and current employees, various company departments, and even the broader public. 
Our agency acts as a channel for effective communication, facilitating dialogue and understanding in all directions. 
What will Enstring offer?
There are two pillars of expertise within Enstring: employer branding and HR consulting & education. We will focus on supporting HR departments of all company sizes, lifecycle phases, and industries to finally implement activities and initiatives they simply had no time for, strategic approach, or approval from the decision-makers to do before. But our role does not stop there. Beyond our core services, we also foster a dynamic HR community by providing education and tools to help tackle the ever-shifting challenges of the labor market.
Along with us, HR departments will rediscover their purpose, gain a sense of accomplishment, and recognize their critical contribution to the success of an organization.
We are not just creating connections, we are inspiring better workplaces.
What is our final promise?
We are here for every HR department, providing the support that has been missing until now.
We act as your strategic partner, giving your company a unique voice by telling your distinctive story as an employer. Our mission is to create and shape employer brands that people aspire to join, helping companies emerge as leaders in their respective fields.
With our support, HR departments can confidently implement projects they have never ventured into before. 
The result? An enhanced employer brand reputation, leading to less turnover of current and attracting better new employees. This creates a culture of happy, engaged employees, which, in turn, drives higher profitability.
The ultimate result? Better business, enhanced productivity, and a workplace that radiates positivity.
Where to find us?
The website is currently under construction, and soon, you will be able to get all the info you want and need right there!
Until then, you can reach us via e-mail: hello@enstring.com!