Back
Concepts & Communication — June 30, 2022
Social media branding: what it is and how to create one for your business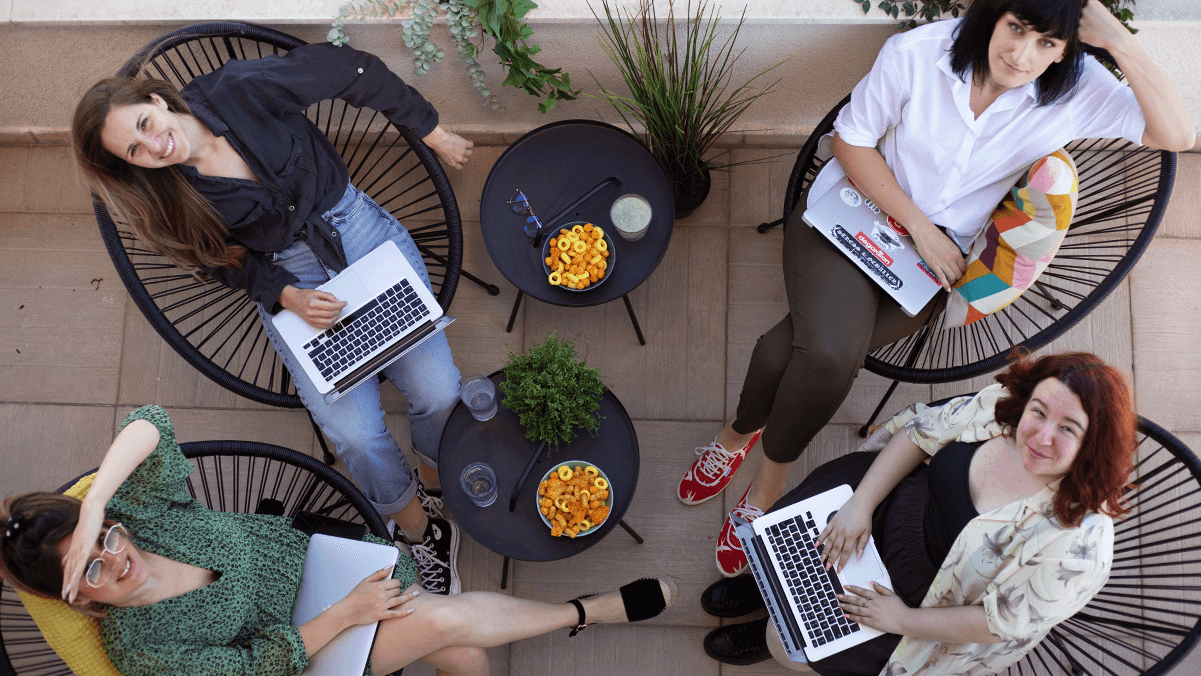 The concept of branding is well known to us: we pay attention to visual elements, mission, vision, goals, brand voice, etc. Likewise, we know that a brand "does not exist" today if it is not on social networks, so visibility, community building, two-way communication, etc., are also important.
In practice, a unique communication extension in the form of social media marketing can't emerge so easily from the traditional brand setting.
It's not enough to just be online and use social media channels as a billboard for all the information we want to pass on to the target group.
This way, the full potential of social media communication is not achieved, so it's necessary to create a stable link between online and offline brand building. Essentially, we need social media branding.
What is social media branding?
Social media branding is a concept of communicating brand values ​​through content creation for various social media channels, with strategic and continuous community building and a clear recognition and differentiation of the brand from its competitors.
Isn't that already being done?
Well, partially.
Brands are already predominantly online on all social networks, sharing photos, chasing trends, hunting down algorithms, adapting and innovating, asking questions, and offering answers.
So what is missing?
Authenticity, recognizability, personalization of content, and communication with the target group.
Moving from the current "maintenance of social networks" to "branding on social networks" is necessary.
The importance of building a strong social media branding strategy
There are several reasons for this type of improvement:
Enhanced brand visibility

Greater relevance and trust within the target group

Valuable insights for brand communication from the online community

Better sales results

Clear differentiation from competitors.
How to build your social media brand in 5 steps?
Consistency of brand persona
The brand persona must be aligned with individual social media channels — from the bio/about section, cover, visual direction, and use of logos, all the way to the tone of communication, content categories, publishing dynamics, and methods of communicating with followers. 
Social media channels are different from each other, and communication should be adapted to their characteristics and possibilities.
However, this does not mean that brand values ​​should be changed for every social network or transformed with every current social media trend. For example, we will not suddenly become "funny" because we see everyone making jokes, nor will we turn to dull stating of the achieved results because we want to "be professional".
Knowing the target audience
For our investment to have a better chance of achieving good results, we need to know who we are addressing.
The target group is not a homogeneous entity with the same interests, expectations, activities, and potential reactions. Therefore, it is necessary to research and sort into several subcategories and then accordingly define the dynamics and type of content we place. 
The information about the target group must be regularly updated, while their online and offline behavior, as well as their communication and reactions, must be monitored.
If we do not know enough about those we are addressing, we will be in a situation to place assumptions about their needs, which can be quickly recognized and can result in distancing the brand from its consumers.
Smart selection of social networks
Each social network offers numerous opportunities for brand communication, and our target group has different expectations for them. Being present on every social network will not solve the issue of brand visibility. It is necessary to be where our target group is and use that space for placing our message.
Given that social media communication requires continuity, reflection, innovation, and commitment, it requires both human and financial resources for implementation. For that reason, when choosing social networks, we should be guided by the presence of our target group and the resources we have at our disposal to maintain quality communication.
It is much better to maintain continuous quality and response to the target group's needs on one social media channel than to split in half in several directions.
Appropriate communication
The essence of social media communication is to talk to our target group and build a stable community of people who continuously give us useful feedback and support, while remaining loyal. Also, our target group can offer good insights for further content creation and brand positioning online.
For all this to happen, it is necessary to really talk to the target group in a language that they understand and use in their everyday life. We want to be accessible, to communicate with each person individually and meaningfully, and for our answers to be part of a concrete and clear communication that is "natural" to them.
We can build a community of loyal users if we use social networks as a space where the target group communicates with us as people of trust, where it is clear to them that we see and hear them and address them directly.
Copy-paste replies to messages and comments after five days and trying to encourage interaction through asking questions at all costs are bad practices that we really need to abandon if we want to deal with community management in a quality way.
The choice of content and dynamics must align with the target group's expectations and needs. The idea of ​​social media branding is for the brand to become a part of the everyday life of the target group, so the dynamics and the concept of posts should be aligned with the target group's consumption of a specific social network, and the content quality that is expected. 
Through investing effort and resources, we should strive to shape communication naturally, close to the target group, aligned with their social media experiences. General statements, a mix of visual directions, CTAs without specific meaning, and social media copies that abound in identical descriptions to transmit "Pinterest experiences" only contribute to drowning the brand in an impersonal mass of online information.
5 mistakes to avoid in social media branding
Changing the brand values ​​depending on the characteristics of the social network and online trends.

Lack of segmentation, generalization, and poor knowledge of the target group, their interests, ways of communication, offline and online behavior, motivation, and driving mechanisms.

Presence on all existing social media channels, without strategic elaboration of activities, resource planning, continuity, and quality in the offered content.

Interaction with the target group that is not part of their expected communication and doesn't take place in a way that is close to them.

Creating content that doesn't meet the target group's needs, nor can it be included in their daily online information consumption.
If we try to generalize the current situation in social media marketing, it seems that the set of necessary decisions is waiting around the corner and cannot be avoided. In the cancel culture era of social networks, where every step is followed with a watchful eye, brands can no longer play it safe with impersonal communication, which is displaced from the purpose of social networks.
We have come to the point where the "brave" and "out of the box" approach defines any specific communication to the target group, communication in their language and related to their daily activities and needs — all that is not a commonplace that "does not bother anyone".
As a product, good results are expected with hyperproduction of activations, rewards, and social media campaigns. But, on the other hand, communication remains intact, and CTA questions remain unanswered.
However, not everything is so black. If we look back on the years behind us, social media marketing as a service is improving, both with creativity and approach. Somewhere along the way, it stopped at "maintaining social networks," and the focus shifted to other things, which is why it's time to think about the context of building social media branding and brand authenticity on the most visible communication channels.