Back
Performance marketing — April 22, 2020
How the COVID-19 pandemic is affecting the prices of online advertising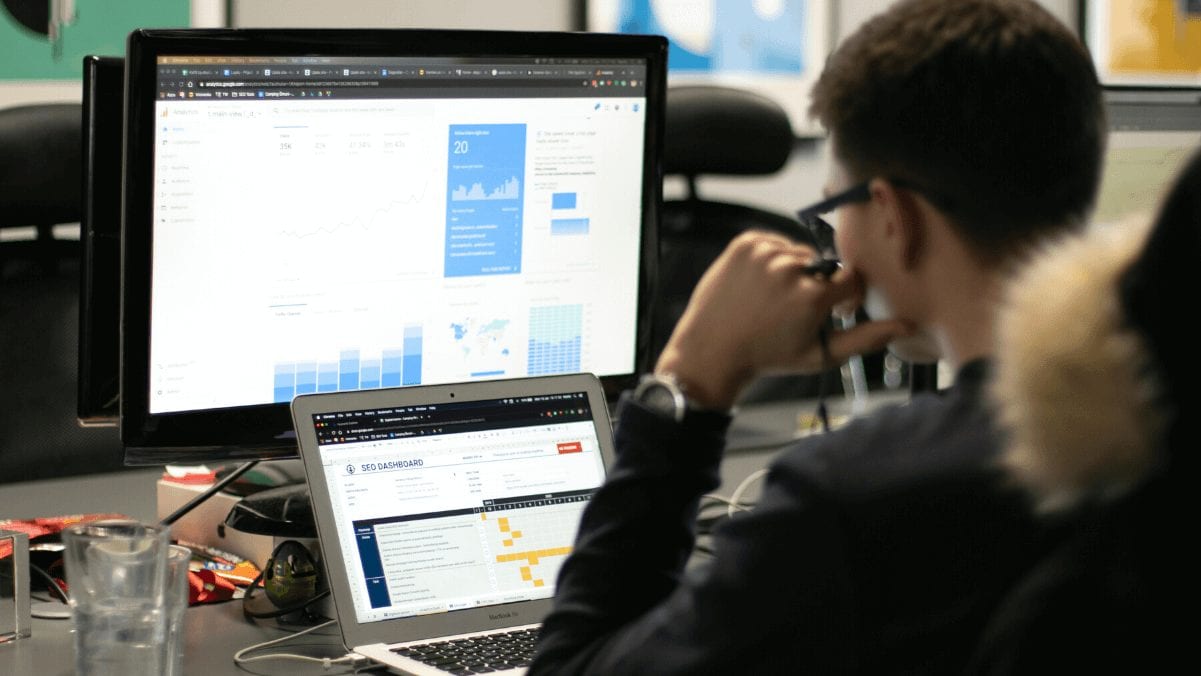 The tourist season is getting closer, new advertising campaigns are being launched, existing ones are heating up and many of us are already planning our long-awaited vacation — that would be a typical April scenario, but this year is anything but ordinary. The COVID-19 pandemic kept planes grounded, hotel, bar and restaurant doors closed all around the world, and most of the global population has been in isolation for weeks. The daily life of all of us has been completely changed.
In a dramatically short amount of time, the global pandemic situation turned the world economy on its head and put in question jobs that were briefly ago considered safe. In that position, many businesses chose to turn to the one thing that could be their lifeline — conducting their business online.
The current situation is like this: one fraction of business entities is unable to do business at all, so they reduce or completely pause their activities in digital marketing, while some are experiencing increased demand and investing more money and assets accordingly. Since this heavily impacts online advertising, we decided to analyze how the situation reflects on the current prices of advertising.
Let's talk global trends
When it comes to investing in online advertising, the tourism and travel industries have been at the top for years. COVID-19 affected these two industries especially, since all activities related to them are halted on a global scale. Naturally, this is felt in the advertising industry, where many tourism and travel campaigns are paused or reduced. Of course, there are also a number of other industries that are all suffering the consequences of this situation, and due to these wide-reaching circumstances, the cost per 1.000 impressions (CPM) on Facebook fell on a global scale. According to a source from the Statista website, the CPM in March is 57% lower compared to November 2019, when it was the highest in the last 6 months. 
The drops are still slightly lower when it comes to cost-per-click (CPC), so the CPC on Facebook for the US market in March was 19% lower than in January. As far as Google is concerned, the situation with advertising prices is strongly related to the specific industry in question, which means that the price dropped for certain industries that are in trouble, but increased for those that are experiencing higher demand.
Trends across industries
The COVID-19 pandemic reached us too, and the same restrictions are imposed as in the rest of the world, with businesses in the region facing the same circumstances as their global counterparts. Since we wanted to see how this manifests on numbers in advertising in the region, we analysed our campaigns and did a regional-scale overview of the prices for certain industries and channels.
We compared the Facebook CPC and CPM from March 12th (when the restrictions started) till March 31st (let's call this period 2) with the period just before the restrictions, from February 21st till March 11th (period 1). We included 4 different industries in the analysis — those that normally invest in digital marketing and are a good example of current trends in the market.
As you can see, the CPM in the second period fell 35 to 54% in all 4 industries, which is quite a considerable decrease. The reason: since a lot of advertisers paused their campaigns due to COVID-19, there was a drop in competition for the advertising space, which in turn caused the decline in CPM. That effect is most visible in tourism, the industry with the biggest drop of CPM.

CPC, on the other hand, has shown to vary across industries, so there can be no talk of certain trends — except in the segment of electronics, where there's been a recorded growth of cost-per-click.
We also analyzed the Google Display Network in the same period, but included the healthcare industry instead of tourism, since it provided more relevant and statistically significant data.
As the table shows, the price of advertising in period 2 fell in all analysed industries. Since Google's display network is often used in raising brand awareness, it's also often the first one to take a hit when there are marketing budget cuts. The display network doesn't usually generate a big direct return like the search network, so, during a crisis, a big number of advertisers decide to first pause the display campaigns.
The Google Search Network shows different trends. Since many businesses switched to online activities (even those that didn't advertise there before), the competition on the search network grew.
Numbers show that the price-per-click increased in all analysed industries, as expected in a situation like this. Also, the conversion rate increase in period 2 clearly indicates how cost-effective it is to currently invest in search network advertising.
The biggest conversion rate increase was in the sales of electronic products, with conversion rates increasing 456.25%. Staying at home clearly pushed people to buy more online, and search engines are one of the main places where they check the offer, making it only natural that a large portion of advertisers focus on the search network. 
Trends across markets
We compared the CPM data on Google accounts for period 1 (dotted line) and period 2 (full line) so we could get a better insight into the CPM trends in the markets of Croatia, Serbia and Bosnia and Herzegovina. The regional trends seem to mirror those on a global scale as far as advertising prices are concerned — all 3 markets had a drop in CPM during period 2.
CPM on Google campaigns in Serbia fell 24.66% in period 2. However, it's interesting to note that, although the numbers in question are smaller, the curve follows the one from period 2 without significant fluctuation.
The CPM in Croatia registered the biggest drop in the region, getting cut for 43.51% in period 2. The COVID-19 situation obviously had a strong impact on the CPM, because the drop happened in mid-March, after a period of relatively high prices in the second half of February and the first half of March.
CPM on Google campaigns in B&H is lowered by 35.22% in the 2nd period, and we can see that this market started to feel the impact of COVID-19 a few days later than the other two — the CPM decline started on March 15th, while the CMP in Serbia and Croatia started declining even before March 12th. However, there was a slight rise in prices on the Bosnian market in the last few days of March.
The cost-per-click on Google Ads accounts hasn't had any big changes, but there were some smaller ones.
Period 2 saw an increase in prices in Croatia and Serbia (0.01 € on average), while the CPC in Bosnia and Herzegovina stayed on the same level.
How to handle the situation
The current situation is uncharted territory for most companies, but however difficult it may be, the crisis can also open up new possibilities. That's why we decided to share some of our thoughts about how to handle the situation and turn it to your advantage.
If you have a small advertising budget:
Keep existing customers
Focus on retention — keeping your existing customers. Create remarketing campaigns catered to prior buyers, or use your email database to tell them about your new offer, special deals, discounts, etc. Loyal customers already know about your products and services, so you'll need to invest less money on them than on acquiring new customers.
Focus on one segment
While acquiring new users, focus on a specific segment. It can be one chosen by demographic or geographic criteria or maybe selected based on interests and habits, but make sure to check the analytics of your website and social media page and find the specific segment that pays off the most.
SEO is important 
As the analysis showed, CPC on the search network is on the rise, so search engine optimization (SEO) is paramount for those with budget problems, since SEO can make up for part of the traffic lost due to budget cuts. In times of crisis and recession, organic traffic is especially important because it's free and requires only time, but gives great long-term results.
As is CRO
Conversion rate optimization (CRO) is always vital, but it can be an even more powerful weapon during times of crisis. Optimizing your website and making the buying process easier for the customer helps you achieve better results with a small investment. If the website is really bad or you for some reason think optimizing it may not give you the results, or you want a part of your offer to stand out, you can also create individual landing pages. The Degordian performance team often uses this solution, which proved to be exceptionally effective. 
Give your audience the content they deserve
Your audience is now exposed to a huge number of brands and can pick and choose from a wide offer. So even if the current situation halted your normal offer and services, it's still extremely important to maintain an online presence and be with your fans. If you can't afford the budget to increase brand awareness through advertising, then it's key that you give your audience something valuable to them — for example, quality web content, relevant blogs, the possibility of consulting, getting advice and similar. Get creative, because your audience will surely show their appreciation after the health crisis is over. 
Don't forget social media
Social media is a key tool in communicating with your target audience, and it's a free one too, so we suggest you use it the best that you can. It's essential that people stay connected to your brand even when they're not using your product, because they could always replace your brand with a competitor. 
If budget isn't an issue and you can afford extra funds, then now is the prime time to invest in digital marketing. Building brand awareness is often ignored, but it's vital for the growth of your business. Since CPM is relatively low now, this is the chance to cost-effectively invest your money. However, make sure to have a strategic and long-term approach and give your audience something of value that will make them stay loyal even when everything is normal again. And, of course, even if you do have enough funds, still make sure to use SEO, CRO, quality content and other items on the "budget-friendly" checklist above.
Let's wrap it up
So, in conclusion, the COVID-19 virus obviously had quite an impact on metrics and campaign results in the whole region, and trends in advertising prices mirrored those on a global scale. The prices have been decreasing ever since the pandemic started, and are slightly growing only on the search network — however, the conversion rates are so high that advertising there still pays off big time. We seem to be in a tricky situation that can be very difficult for some businesses, but the riskiest thing you can do now is do nothing. 
The advantage of digital marketing is the number of options it offers to businesses, no matter the size, industry, or budget. So if you have any questions about digital marketing, feel free to contact us. We'll gladly share our knowledge with you both on and offline, so till offline becomes an option, give us a virtual hello and stay safe!